Language & Communication27th February 2016
Signworld's On-line BSL Resources Made With Learners In Mind
Designed and developed by a team with years of BSL teaching experience, Signworld is a brilliant back-up to the classroom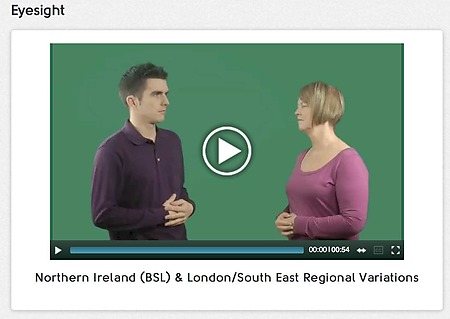 Take a quick look across social media platforms and you will see many requests for help from people learning sign language. It might be a starter, setting out on their journey with some home learning, to people who have been studying quite a while and need more technical support. Social media being what it is, help is never far away, well intentioned advice given in the true belief that they know the right answer.
It is rare to see someone asking for the context/meaning of the text that is being asked about, and even more rare for someone to ask which regional dialect that person is learning. I fear the reason for that is that there are very few people in the UK that know all signs in all 14 of the regional dialects.
A quick assessment over a week long review of a few different BSL learner groups, and the accuracy rate of the advice given for how to sign this, sign that, equipment that might be used, Deaf cultural norms, etc. is very low indeed. Well intentioned yes, helpful, possibly, but right – rarely I'm afraid.

That is why, along with other BSL teaching experts, I started Signworld – an on-line learning resource for learners that has been designed to support the BSL journey through the qualification route. Unlike many other on-line resources, it provides access to all BSL regional variations demonstrated by people who use sign language every day.
Resources are structured around the topical teaching of BSL, expertly supporting classroom teaching with a top quality and easily accessible on-line resource. As a revision or mainstream learning tool it is unrivalled for accuracy and usability.

Signworld has been designed with learners in mind, every decision during development intended to provide students of the language with the information they need to excel. I am biased, but students who have used Signworld often tell me that it is the best sign language learning tool available online anywhere.
Setting out, the Signworld team was passionate about the need for a cutting edge way of learning British Sign Language. Combining years of front line teaching experience, course design and qualification assessment, the result is a simple, beautiful and clear learning experience for our users. Everything is uncomplicated and accessible with only a few clicks required to access whatever information a learner might be looking for.
Simon Deacy, a Level 3 iBSL learner now, started his BSL journey just 2 years ago and has used Signworld to support his learning from day one. Commenting on Signworld as a learning resource he said, "Signworld is fantastic. I like it because being a more mature student, it allows me to work at my own pace and helps me keep pace with youngsters in the class. What I like most of all is that setting out, I could access the specific regional signs that my teacher was so passionate about and then as I grasped the basics and progressed through to Level 2 and now Level 3, Signworld allows me to explore regional variations, thereby building my confidence when meeting Deaf people from other regions."

In addition to BSL, Signworld has other packages that support the comprehensive learning of the language, including packages on Deaf culture and fingerspelling. You can use the Signworld packages one at a time or all at once, with the ability to migrate around the site easily. It is available 24/7 wherever you have internet access.
Learning requirements are very individual and Signworld is designed to meet those needs with regional signs easily accessible in each lesson. There is the opportunity to practice on-line with the ultra-responsive system telling you where you are going wrong and tracking your progress.
With a vested interest in more people using sign language in the community and that sign language being the best standard possible, we want learners to access our resources. That is why our packages are affordably priced, starting at £29.99 for a year's access to the Level 1 package. Topic packages, like colours and numbers for example, can be accessed for as little as £3.50.

To find out more about Signworld go to: Signworld
To look at the range of packages for learners go to: signworldlearn/learners
If you are a teacher and want to access the teacher resources we provide go to: signworldlearn/teachers
Good luck with your learning.
Article by Signworld Team
posted in Community / Language & Communication
27th February 2016
Latest Issue