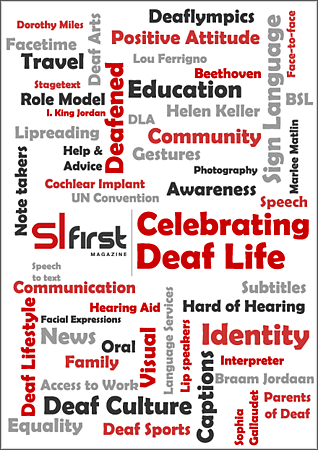 SL First Magazine was launched in 2011 as a free publication available to the general public. Our mission is to bring together businesses and services that think about, and are accessible to all, including the Deaf and Hard of Hearing communities
You can order your copies of the latest Edition of the magazine now. This years' latest Edition contains 80 pages of articles, information and advice and covers a range of deaf issues. For now, SLFirst Magazine remains a free magazine, but the increased size means it can no longer be posted for the price of a letter.
Whilst the magazine itself is free, we do need to charge a small amount to cover the costs of postage and packing. If you wish to order a copy of the magazine, please contact me at sarah@slfirst.co.uk You can use the form below to choose how many copies you would like posted to you, and as soon as the new magazine is printed, you'll be one of the first to receive your copies!
Order yours now!
If you would like to order a copy of the magazine or subscribe so you never miss an issue you can do that on the order page.
Latest Issue