Language & Communication19th October 2015
Promoting Indian Sign Language Inside Bombay Taxi Cab
Designed to encourage conversations with Deaf people, Deaf children loved the highly visual design highlighting their language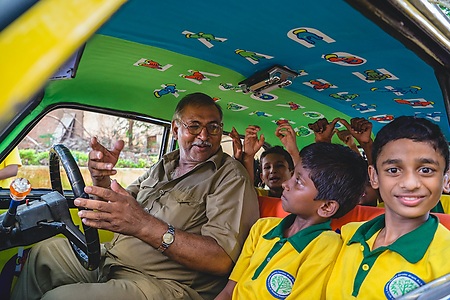 Sign Language is not for everyone who is Deaf. Like everyone else in the Deaf signing community, I recognise that, but for those that use it, it is important, critical in fact. Over the years, lots of wonderful Deaf people have championed for better access to Sign Language in all walks of life, and across the world there are more and more examples of projects and programmes that are bringing it to the consciousness of those that don't have to use a 'signed-language'.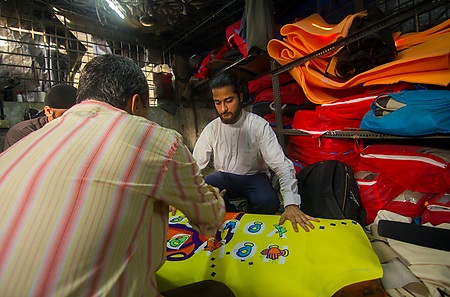 Here in the UK, the BSL (Scotland) Act 2015 will do a lot to raise awareness of the language as does the recent passing of legislation in Finland. In America more and more public officials make announcements with a sign language interpreter close at hand. In Costa Rica, the President has employed a sign language interpreter in his team to accompany him on official engagements. At the UN level, Braam Jordaan continues to highlight the importance access to sign language in education. Even the fake interpreter incident in South Africa, did a lot to raise awareness.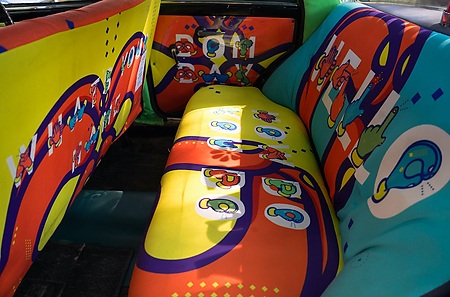 In India, a man with a passion for design, has recently got involved with a taxi furbishment company called, Taxifabric, in a project aimed at raising awareness of sign language in Bombay.
Harshit Vishwakarma, a Graphic Designer, Illustrator and film maker, presently working at Wieden+Kennedy, in Delhi, has helped design a taxi that will give customers a highly visual insight into Indian Sign Language. We caught up with Harshit and asked him about the project.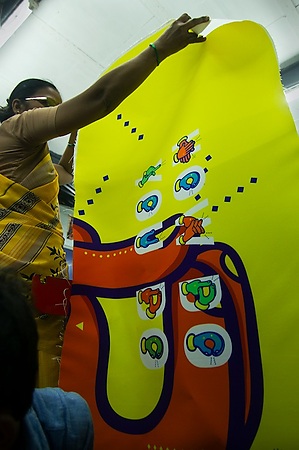 Hearing, Harshit's involvement in the project stems from experiences he had during his college years when he saw first hand the gap that exists between the Deaf and the hearing communities. Wanting to do something about it, the taxi design opportunity came up and Harshit saw that it was a chance, "to create a fun, engaging resource for deaf as well as hearing individuals to learn the language, starting with how to finger spell in Indian Sign Language."
Commenting on his involvement, Harshit explained, "The idea of doing it in a taxi was extremely interesting as it embeds the project into the daily life of Bombay. So, instead of people making a conscious effort to learn the language - finding a teacher, going to an institute, the language comes to them, says hello to them & starts talking to them inside a taxi."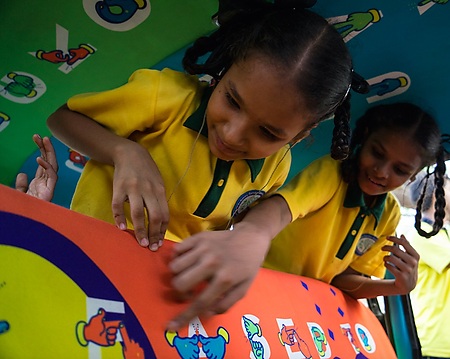 Used daily around the streets of Bombay, a ride in the taxi introduces passengers to the alphabet of Indian Sign Language and Harshit hopes that the, "Next time they meet a deaf person they don't feel tongue tied. It's like missing out on having a conversation with 18 Million people in the country."
Colourful and striking, I asked Harshit what they were trying to achieve by having an Indian Sign Language design inside a taxi. "Indian Sign Language, for me personally has a lot of fun, playfulness & interactivity inherent in it. Since I was interested in creating a fun and engaging resource for people to learn Indian Sign Language, the idea of doing it a taxi with different passengers travelling to places in the city was extremely interesting to explore. The idea lent itself to creating an opportunity for people to be able to strike a conversation with the Deaf as well as the hearing population of Bombay."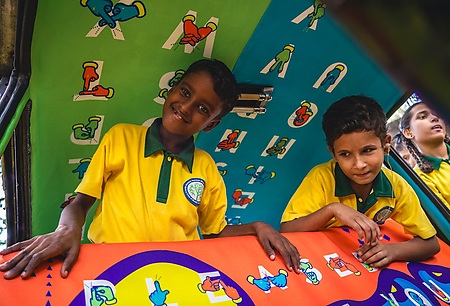 Arguably bold and brash in design, Harshit explained that it was a conscious decision not to develop something that would achieve, "sympathetic sensitisation of people around the deaf community of India, which accounts for approximately 18 million people, but to hold their hand and invite them to see how much fun it is. India has the largest population of deaf people in the world and Bombay has a considerably large deaf population. There are more sign language users in Bombay than in Europe as a whole, which I think adds another dimension to the project."
At the moment just one taxi has been decorated this way, but Harshit hopes more will follow. Thinking about what people using the cab will make of it, Harshit told me, "I think it's going to be a pleasant surprise for them. The idea is to catch their curiosity, hold their hand and invite them for a conversation."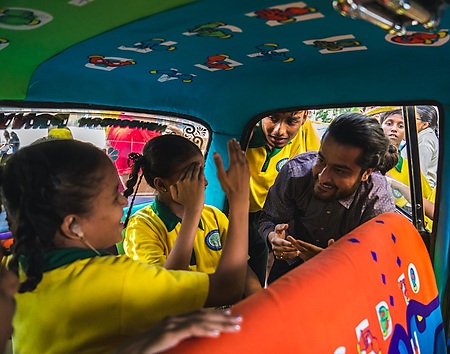 For the World Deaf Day a few weeks ago, Harshit and the Taxifabric team took the taxi to the Rotary Sanskardham Academy, a school for Deaf children. "It was a surprise for the kids at the school, as we had told the principal that we were going to see how the kids interact with the taxi", Harshit told me excitedly. "The children were really happy seeing Indian Sign Language inside, as they told us that they had never imagined something like this. They were interacting with the fabric, touching it and sharing their thoughts about the design with their friends. They thought it was colourful & nice."
"They even asked us to do something in an aeroplane. It was an overwhelming moment for all of us involved in the project to see how the kids were interacting with the design. As one of the interpreters said, it's a good medium to introduce people to Indian Sign Language. People sitting inside the taxi would realise that this is how Deaf people communicate. And when they are sitting inside the taxi they can actually at least learn one word."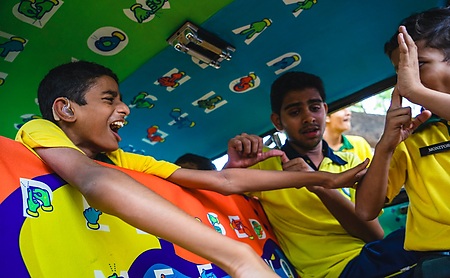 Harshit is already working on a new project to create a playful and engaging resource for children in India that will help children to learn Indian Sign Language, starting with finger spelling, making up for what he describes as a dearth of resources for children to help them learn the language.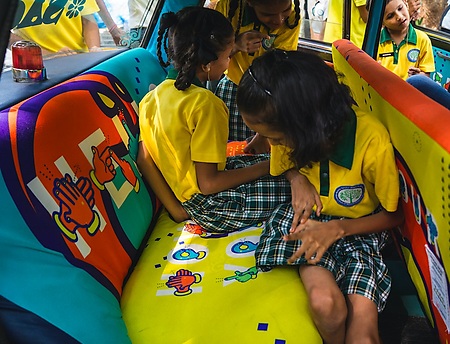 However, reflecting on the taxi project, Harshit hopes that even this small promotion of Indian Sign Language will make a difference. "I think more than anything else, if people who are sitting inside the taxi even learn how to sign a single word in Indian Sign Language they can start talking to a deaf person whenever they meet them in their life, instead of feeling tongue tied. The act of just saying 'Hello' is enough to start a conversation. I think Design can change the way we look at disability, by enabling conversations."
When I get to visit to Bombay, I hope I am lucky enough to catch a ride in this taxi and to have the opportunity to learn a few words of Indian Sign Language myself.
Article by Sarah Lawrence, Editor
posted in Community / Language & Communication
19th October 2015
Latest Issue